Raleigh-Durham, North Carolina (Lake Ridge Aero)
Note: This was written when I was still flying and teaching in Colorado. Now, here I am, living where the story takes place. Unfortunately, the airplane is no longer here, having been sold a few years ago.
Although I now fly in the Denver area, I first learned to fly in New England. My primary training was at a small nontowered airport in Northampton, Massachusetts (7B2) when most of my flight time was spent in N9674T, a terrific little Piper Tomahawk – the favorite in a group of three of the two-seat
trainers. My first lesson, solo and cross-country, my checkride, and my first passenger (my wonderful wife Janet who started it all) were all in this little airplane.About a year ago, I ran into a current Northampton pilot and asked about "my airplane." The pilot told me that although they were still training in T-hawks at the airport, 74T had been sold some years earlier, to, she believed, someone in North Carolina. My in-laws live in the Raleigh-Durham area and we were going to visit them for Christmas 2000. On the slim chance that 74T was somewhere near them, I checked the aircraft database on AvWeb.
74T is spending its well-deserved retirement at Lake Ridge Airfield (W65), a private airfield just north of the 10-nm ring of Raleigh-Durham International's (RDU) Class C Airspace. Located on the shore of Falls Lake, W65 serves the Lake Ridge residential community which has street names like "Skylane Drive." Owned by an RDU air traffic controller, 74T shares Lake Ridge's tree-lined grass runway with other common Piper and Cessna aircraft. And some uncommon ones. Lake Ridge is also home to some beautiful tailwheels and aircraft restoration activities.
After visiting my "old friend," I stopped in at Lake Ridge's office where, after sharing some local flying tales, I met Paul Hesse , who owns and operates Lake Ridge's flight school, Empire Aviation. He, along with Mike Ratti (who is also in the process of restoring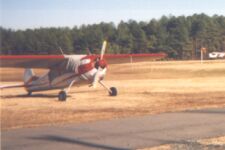 a Waco and an Stearman) train pilots in three aircraft – a Cessna 150 and 152 and a Piper Cherokee 140.
I had planned on checking out in a Cessna 172R at RDU, but what would you do when faced with the choice between checking out in another 172 on a 10,000 foot paved runway or bouncing along a grass strip surrounded by trees in a Cessna 150 with your nose held high in the air for takeoff and landing? Me, too. I don't get to fly unpaved strips very often and dropping in over a real 50-foot obstacle to make a soft field landing was a real treat! If you really want to learn to land with precise control of airspeed, descent rate and flare, this is a place to do it!
If you're visiting in the area, drop by and say hello. If you're flying in, call first. Like all private airfields, it's the polite thing to do. I'm sure you'll feel welcome. I sure did.