By Doug Barr 1
Well, it's June, 2001 and I am off to Alaska from Boulder Colorado(1V5) in my Aviat Husky. I plan on leaving Saturday morning, and rush around packing and buying everything I need (I hope). I have full camping gear, a small cooler, a stove, first aid kit and charts, charts, charts. Finally, I decide that I'm not forgetting anything important like my sleeping bag or Master Card, so off I go. I plan on going west, to the west coast, camping all the way. Up to Oregon, then up the coast all the way to Kenai Pennensula, then over to West Alaska (McGrath area). From there I am not sure, but plan to return down the Alaska Highway to Dawson Creek and down east of the Rockies back to Colorado.
Looking at my charts, (I have the Howie Keefes charts of the WHOLE LOWER 48), I notice a State of Oregon airport on the Owyhee Reservoir that looks good. No road to it and I am sure I can camp there. It is about 30 miles west of Boise on the Owyhee Reservoir. So, it's off I go, pretty much direct. I have a panel mount IFR GPS, as well as a handheld I use occasionally, so direct is easy and efficient. I have to be careful not to cross into military airspace, but cloud ceilings are high or non-existence, the visibility is Colorado Pure Blue, so it's mountain flying at it's best. My route takes me north of Steamboat Springs, where I can see evidence of the "blowdown" (200 mph winds) that blew down an extensive area of trees north of Steamboat on the west side of the divide 2 years ago. Hmm, alotta downed trees! The sight gives me immense respect for the power of weather systems on our planet.
The Husky is purring sweetly, so no need to stop, I make Rock Springs (RKS) my first stop, fuel up and proceed onward. From there it is onto the Boise area, I fly around their airspace, and land in Caldwell (EUL), for a fuel stop. I have my food for dinner camp, so I check the map and set out for Owyhee Reservoir (28U), my camping spot. As I circle down the Owyhee airstrip, I notice a couple of Cessna taildraggers parked and say to myself, "ohboy, more campers", and indeed there were! So I circle on down, get in the pattern, announce (boy it's weird announcing at these deserted airstrips) and land, no problem.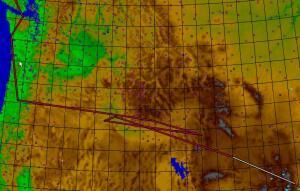 Upon landing, I am greeted by the two Cessna pilots, a husband wife team with matching 140's! What a pair. They are on their way back from a week of flying and want to know all about me, where I've been and where I am headed. We start looking at my airplane and discover a disconcerting problem, one of the tailwires on my Husky is broken. Bad news! The good news, the Husky flies fine without it, and it is field reparable. (Many systems on the Husky are this way, in the case of the tailwires, any one can break, and the other two will hold). So with the two 140 pilots, my toolkit, we take the wire off, back it out of the one end, screw it all back together and I am repaired. Not wanting to fly far with such a repair I plan on flying to the Husky factory, in Afton Wyoming and get a new part, so I am 100% repaired, legal and confident for my long flight to Alaska.
Camped and didn't see the ghost of Owyhee. Well, now it's backtrack to Afton, about a 3 hour flight, spend the night there and on Monday morning buy new wire, install and set out again. Afton airport (AFO) is right in town, you can actually taxi to the gas station on the highway! I get a motel, eat and enjoy motel/restaurant life. Next morning it's over to the factory, where I parked my Husky, and buy two wires (might as well change the other side as well), install with the help of their A&P. The a Aviat brass all stop by to examine the bad news. I guess they see this stuff all the time, the plane flies without it, it's field reparable and they don't like AD's. No design change contemplated, it's just one of those things. My 1996 Husky has NO AD's on either engine, prop or airframe, so I guess they must be doing something right. Give them credit for being there, having the part and helping me fix it. So about ten in the morning, I have it fixed, take off and am off. About Sun Valley area (Hailey) (SUN), I'm ready for a break and some fuel, so I land in Hailey, nice airport, nice folks. They are having a dry spring, there are gliders AND commercial traffic operating on the field, Class D tower. Fueled up and on my way.
At about Boise, I decide to file IFR into Eugene (EUG) (I have Howie Keefe enroute charts as well), and approach plates, though I don't think I'll be needing them. So I file from the air with FSS, call Center, open my flight plane, and, way cool, I'm on my way, this VOR to that one on into Eugene. It's mild IMC, so the flying is easy, I'm at 10,000′ and don't have much headwind. The route they put me on (they changed my routing right before I crossed the Cascades), took me at 10,000′ between two volcanoes, the volcanoes were above me several miles to my right and left. Super! They bring me into Eugene high, for noise abatement I suppose, and I get priority for landing, it's cut the power and dive at 120 mph, pretty much a slam dunk into the airport, but I made it. I can hear the conversation in the background on tower, "What have you got coming in?", "Approach is bringing in an Aviat Husky, IFR", "An IFR Husky??" , "Yep"
Eugene has an airport terminal with a restaurant, nice, I go in and eat, look at my charts and see another State of Oregon airstrip out on the coast northwest of me. So that's the where I'm headed! I make it, nice place not ON the beach, but about a mile walk away from it in a grove of trees. Some guy there camping with his 182. We chat. He fills me in on the skinny of Seattle area airports. Some place called Friday Harbor. Not sure I want to deal with all that airspace, I'm planning up the coast. Port Angeles looks convenient.
I camp, and next morning it's follow the coast up. For a Coloradoan like me, this is a thrill, I don't get to the ocean that often. There is a charted airport ON THE BEACH, at Copalis State Beach, WA (S16), so I've just gotta land there, never landed the Husky on a beach! Landing on the beach was way superb, soft, and quiet, quite a bit of wind, but I think you could land just about any plane there, it's over a mile long, smooth as silk. Just a beach and a windsock!. I stop the plane, get out. Only downside is I get sand on my shoes, which gets in my airplane. Oh, well, life's a beach!
After Copalis State Beach, it's up the coast to the further most northwest tip of the lower 48 (there is a VOR on it), around the bend, up the straits of San Juan de Fuca and into Port Angeles (CLM). They have a courtesy car, so I head into town for supplies, fuel up, call 1-888-CAN-PASS file a VFR flight plan to Ketchikan, and plan on stopping in Courteny Vancouver Island, BC for customs about 100 miles up the coast. Courteny (CAH3) is nice, a float plane is landing in the river, next to the airport as I come in (I just gotta get my Husky on floats some day!), I land, taxi around looking for the customs guy, don't see him, so I just tie down on some grass. I start chatting with a couple of instructors, they find out I'm IFR rated, with an IFR Husky! They take a look at my airplane. One of them isn't IFR rated. You don't have to be to instruct in Canada, most instructors get their IFR while they are instructing. The customs guy shows up, Canadian customs is no sweat, easy as pie, just a form to fill out, doesn't cost anything either, eh?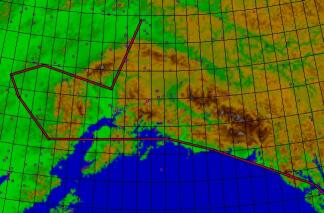 Well, so it's up the coast, and this one is a little scary, I mean civilization has CEASED TO EXIST! No roads, no towns, no airports either for a loong way (OK, longest leg between airports is probably 150 miles, but…). I stop at some little airport on some little island with no services, and up to Bella Bella (CAF2), where I pay $5 for fuel (ouch!) that's American dollars per gallon folks. The Canadians sell fuel by the liter in Canadian dollars, you do the conversion! All I know is I took on about 20 gallons and it cost about $100 bucks! On to Prince Rupert, where fuel is more reasonable, and then it's just a short hop to Ketchikan, and I back, back, back in the USA!!! Good VFR the whole way.
Ketchikan (KTN or PAKT) 2 is nifty, airport's on an island, across the channel from the Ketchikan island, so you have to take a ferry to get to town. All this boat traffic and tons of float plane traffic (Beavers mostly), landing on the "canal" between the Ketchikan island and the airport island. It's late, I'm tired, and I don't want to try and camp, so it's into town and I get a room. In the morning I go into town, check out the float plane dock. See tons of Beavers, 185s, Pilatuses and other miscellaneous floatplanes. Then it's back to the motel, shuttle to the ferry dock, ferry to the airport, fire up the Husky and head for….Gustavus.
Now Gustavus (GST or PAGS) is even better. No way to get here except by plane, (well they do have an occasional ferry). Only about 200 people living there, and though their airport isn't really a Husky airport (big runways, moose fence etc), the fuel lady was real friendly, filled me in on all the ins and outs of the place. She really recommended a bed and breakfast, so I fueled up and said I'd think about it. I wanted to fly up Glacier Bay and see the Glaciers, I mean there must be some reason they made it a National Park. I did, and it was windy and turbulent!!! I flew for 45 minutes fighting the stick and the wind the whole way, said whew, enough of this turned around and flew back to Gustavus. Looked around, and said to myself, self, I said, "It doesn't get any better than this, believe I'll stay a day" Well the camping didn't look that great, so I called B&B, one with a grass strip, got a reservation and man, This Is CLASS. Five star with a price to boot, had a 6 star meal with a couple from Germany and some guy from Wisconsin, super food, chicken and local crab. Now THAT's living. The owner took an interest in me, Husky and all. He had a 185 he flew over to Juneau every day for supplies, so I got royal treatment from good old Ponch! Spent the night, woke up the next day to… you guessed it rain! Well this IS the coast of Alaska, wouldn't be complete without a day of low ceilings, and I do mean they were LOW!. I took off, and flew up to LOW' AGL, man, here's a cloud. Looked around, and there a cloud wisps down to the treetops. I was actually afraid the airport could fog in behind me, and I didn't know if I could make it around the Cape Spence or not, so I backtracked and landed. Whew! Waited awhile, and the clouds lifted, looked better to the west, so I tried it again. Ponch had drawn a shortcut through a pass, a low one, instead of going around Cape Spence, I ventured inland, hoping I could get through. I could. Hey, this is the coast of Alaska! I flew up to Yakatak (are you having a Yak attack?) at MIN' AGL/MSL, right above the beach though, nice landing zones, stopped at Yak (CYT or PACY), fueled up. They have a Bar and Roadhouse instead of an FBO, (no booze for me), and after coffee and fuel, it's up the coast, towards Cordova. Stopped at a grass strip right on the coast, had lunch/dinner, did another beach landing just for fun and on up to Cordova, where, thankfully, the low ceilings went away.
Now Cordova is just a little gravel strip (Cordova Town Strip) (CKU), but they do have fuel, the tie down is across the road from airstrip, which is next to the lake, where the float planes come it. So you have to taxi across a road to tie down and camp, and taxi UP the road to the boat dock to get fuel. But that's Cordova for ya. Spent the night, had breakfast, got gas. Met a guy with a Maule. He and his girlfriend had tried to get down to Sitka from Cordova the day I flew up under the low ceilings. Only they tried to do it ON TOP. It went OK for 2 hours, then the layer above melded with the layer below, they had to turn around and come back. He was trying it again today, and taking my advice to stay under the deck. The Alaska technique is, fly under the clouds, along the beach, you are OK down to, well some say as low as "REALLYLOW". Then if it goes below your limit, turn around, it can down TO THE DECK. If you are thinking IFR, they DO have these "brown airways" defined by NDBs with MEA s of 6 or 7 thousand, which might be in the ice. I just use the Husky's IFR to get ON TOP or do an approach, who wants to slog along in the clag all day long? But it IS possible. Not many do it though without twin or turbine power. But this guy in the Maule wasn't IFR rated, so he didn't have any choice. Don't fly ON TOP into worsening weather, or so far (This was 400 miles fer chrisakes!). But he made it back, good thing he had long range fuel tanks. One thing about going up the coast, you generally get tailwinds south to north, and you get tailwinds west to east, so you can have tailwinds both ways (one reason why I did it the way I did). Also, I just wanted to fly up the coast. I did have the airway programmed in incase I HAD to go IFR, but I'm glad I didn't have to use it. If all this scud running makes you nervous, just stop and wait, the weather usually clears up, though I do hope you understand, I was over the ocean, in sight of a landable beach, so I wasn't going to run into anything, and I had an emergency field insight, frequently, anyway. The Husky never missed a beat. In retrospect, it probably would have been better if I had filed BOTH a VFR and an IFR flight plan, then if it went IFR, I could have just opened it. Have to remember that for next time. In some ways, flying VFR under the deck gives you MORE options, you can Run under, turn around, land on the beach or go IFR. If you are IFR, all you can do, is go IFR. And the IFR route is out over the water.
So now it's morning, I'm in Cordova, and I need to get to Kenai. Weather is not-looking-too-good. Damn storm has caught up with me while I slept, and the Bay of Valdez (not the right name), is going to be low ceilings. I want to go through at Whittier, but as I get closer, things are looking worse in THAT direction, so I turn towards Seward, my alternate. About 30 miles north of Chenaga Bay, I break out, climb up to 7500′, put in a direct route to Kenai, (Soldotna actually), and climb up over the mountains and glaciers of Kenai Peninsula. Fantastic! Kenai Lake, Kenai river (prettiest turquoise river I've ever seen). Man, I GOTTA get me a floatplane!!!
At Soldotna (SXQ or PASX) I'm sittin' around, wondering out loud at who ever will listen about where I'm going to go next (everyone is super friendly), and this guy suggests Port Alsworth and a little place called Flat. Port Alsworth is in the middle of a National Park, one of these Alaska towns you can only get to by flying, and looks good. Flat is a mining ghost town that is supposed to be in immaculate shape, and looks interesting. Fuel in Port Alsworth, camping available everywhere and food in McGrath. Sounded good to me, after going into Soldotna and stocking up on food etc, I take off across the bay towards Mt Iliama and Port Alsworth (Lake Clark area). I didn't really find the low pass, but no clouds to worry about, I fly right up next to this smokin' volcano at 7500′, glaciers everywhere as usual. Port Alsworth (TPO or PALJ) looks good, hey this place has TWO airports, right next to each other? (Some rivalry or something?) It is on a Lake Clark and it is pretty, and pretty damn cool.
I land, no one there, another bed and breakfast town. I find a camping spot (better camping), and find out there is a cafe. Nice place run by an ex school teacher from Michigan. I find out the ins and outs of this place. EVERYTHING comes in on plane! They can land the big Hercules on their runway, and there are all these US MAIL flights (people mail their groceries!). The COSTCO in Anchorage will take orders over the phone, package the stuff up and ship it. There are palettes of gear on the ramp (well a wide place in the runway really), with kitchen cabinets, etc, they bring in all their building supplies by air too. Everyone has generators, satellite phones, satellite TV. hey all the conveniences! I met a trapper who lives over on the other side of the lake, he commutes by boat. Western Alaska is cool. So I spend the night, have breakfast in the cafe and it's off to Flat, this ghost town airport/town.
Before I leave, I meet a National Park guy and he tells me there is a herd of 200,000 Caribou up in the Bonanza hills, which is sort of along my way, so I fly up there and back and forth trying to find this herd of Caribou, never did find them. How can NOT find a 10 mile long herd of Caribou? Only in Alaska.
Along the way I have to stop, so the nearest is Sleetmute (SLQ or PASL), a native town, now this is different. On a river, they get tractors up the river in the winter and boats in the summer, I guess, but mostly a fly-everything- in-town, from what I can figure. I meet the "Baron of Sleetmute" some enterprising guy with everything under construction (house, airport, 206) who sells fuel, food, heck, anything he owns, he'll sell ya. He talks my ear off, I meet his wife Bambi (no foolin'), nice folks, gas up, what the heck and it's off over the low mountains to Flat.
Flat (FLT) is not, it's in a mountain valley, but it does have a nice dirt runway, no services and a whole town. With NOBODY THERE! All these old cars lined up in the open garages, and the town hall and church all fixed up nice and deserted, I go inside and play the piano. I walk up to the bridge, still no one around, place feels like the twilight zone. Well, there MUST be someone there, I wonder if they heard me playing the piano? Probably thought I was the ghost of Flat! Flat is an amazing place, a well- kept ghost town, with no one home.
So I take off, McGrath is the next stop. Flying over the muskeg, pretty, wet and not too friendly looking so far as crash landing sites. I make McGrath(MCG or PAMC), sort of half native, and half, well, honky or whatever whites are, on a river, with barge traffic. Everything is on the airport, bars, restruant hotel, grocery store. I guess the airport is IT, in McGrath. Well, I'm starin' at the chart, trying to figure where to go next. The weather is good, so I figure I'll try and fly around McKinley next. I notice on my chart this airstrip and a a little sqaure dot with the words "Lodge" next to it. Wow, I think, another Gustavus, Lake Clark scene only smaller, it says private, but that's some FAA thing, usually if they are private, they aren't even on the chart (and there are PLENTY of those). So I plan on landing there. So I do land, a really short, bumpy strip, now this is Husky territory, the strip has WHOOPS (big moguls) in it, what a trip. I taxi down to the end and there's this guy on a 4 wheeler there to meet me. He looks friendly enough, and is.
Turns out this guy is the caretaker for this closed down Hunting Lodge and his boss can't resupply him this week, so he is GLAD TO SEE ME. Well, he sort of takes me in , and I've never had better hospitality, I got to check out his lakes, boats, hunting lodge and sleep in the staff shack. So I take him up on his hospitality, trade him some groceries and stuff for his trouble, and spend a couple of nights (and three days), beating the bush, and motoring around these lakes, and checking out the bears. What a lucky guy I am! Guy wants steak and chicken, he's tired of eating Moose and Trout! Shees! I'll make THAT trade! I can't say enough good about my stay here, it was plain dumb luck, and Eric the Caretaker was the best host you could hope for. This place was in serious contention for the highlight of the trip.
Well the weather is still good, I figure, I'll go up to Talkeetna, fuel up and try and fly around Mt McKinley. And I do. 14,000′ all the way around that 21,000′ mountain, got some updrafts on the leeward side, scared shitless the whole way! Here I am, in my tiny little Husky, with this 7000′ wall of rock, snow and ice staring at me, trying to get up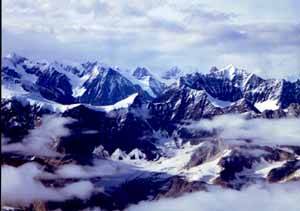 the nerve to catch ridge lift by flying right up to the sucker (I am on the windward side). Man what a sight. Like being somewhere God did not intend Man To Be! This mountain rises up from 1000′ to 21000′ in about 20 miles. Surrounded by glaciers. Whew!… Words can't describe it. (Photos can't describe it either).
Talkeetna (TKA or PATK) airport is a zoo, all these sightseeing flights taking off and filing, yes filing their flight plans on the AAS (Airport Advisory Service), (CTAF in the lower 48). Could hardly announce. Some of the local scenic pilots seem to have an attitude (like if you're from out of state, LEAVE!). But they DO have fuel for flying around Mt McKinley and have a small Grocery store and a laundromat (I make this laundry day). Talkeetna is sort of the "Aspen" of Alaska. All these mountainclimbers, very pretty log cabin type town, small really. Touristy, but has a river, river trips and is the base for flying and supplying Mt. McKinley trips. Has a cool little "Town Strip" that doesn't have gas but ends right at main street! (listed as private, how can an airstrip OWNED by a town, be private?).
So now it is decision time, where to camp. I land at Mt McKinley airstrip (INR or PAIN) (right next to the RR tracks and station), but you can't camp next to your plane, so I push on to Fairbanks where I know there is a way cool camping site.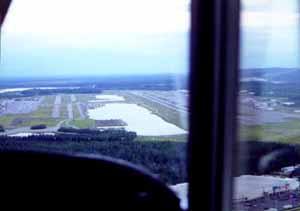 Fairbanks (FAI or PAFA) has the best facilities I have ever seen for camping at an airport. Here is this HUGE runway, with B747's coming in, a float pond and two GA runways (one a gravel "ski strip"). Taxi down to the south end, and there is a super little campground, with pullouts for each campsite, a fire pit, table, and tent site. What a great place! They even have one of those old fashioned water pumps. It is within walking distance of Fred Meyers, a super Walmart type place (yes the sell aviation oil), along with everything else. I grab a campsite, cook dinner and decide to go into Fred Meyers tomorrow to buy groceries and whatnot. Have I mentioned it does not get dark in Alaska in the summer? Well, it doesn't. Makes it a little hard to sleep, and is part of the Alaskan magic. Next morning it is off to Fred's, I shop, pick up some groceries and a few things, buy a bunch of ribs (yum, yum), come on back. I spend the rest of the day hanging around the float pond. I meet a guy who has a Husky on floats, straight Baumans. A simple set up, though you do have this rudder retract cable that goes into the cockpit. Presumably you retract the rudders in flight. I find out the Husky gets a gross weight increase when you put floats on it that exceeds the weight of the floats! The guy that flies it tells me all about it, how it way out- performs a Supercub. I start trying to figure out if I could buy some floats and leave them up in Canada or Alaska, fly up there and put them on… Straight floats are better performers, but amphibs let you into more places that have fuel. The way I fly, I think I'd be better off with amphibs, which are really costly (like 40K!). Maybe later, when the stock market goes up. They also slow you down, quite a bit. He comes over and looks at my Husky. Everyone is superfreindly. I change the oil on my Husky.
Fairbanks is a TRSA! They just "upgraded" from a Class D to a TRSA. They went TRSA because if they went Class C, they wouldn't be able to let all the planes without transponders in and because their traffic count is not high enough. Another peculiarity, is there are several airports in the vicinity of Fairbanks, a couple that sell fuel, but none of them are on the charts! or in the AFD!! Go Figure, only in Alaska. A couple of other Alaskan peculiarities is there is a lot of AAS (Airport Advisory Service), which is FSS on the field. You call in on the CTAF freq and you get the guy in the FSS station. He gives you wind and traffic advisories. Also, a lot of Alaskan airports have TWO ID's. Apparantly there are two systems. The FAA has both in their computers now. My GPS's use the ICAO id. The FAA seems to favor the other system, but is coming around to the ICAO.
Well, I need to get back to Colorado so tomorrow, July 4, is the day I am to leave. My plan is to fly down the Alcan highway, Northway, Whitehorse, Watson Lake, Ft Nelson, Dawson Creek, then down the east slope of the Rockies to good old Colorado. Checking out the weather, it looks like I'll have tailwinds down the highway! They aren't forecasting any signifigant weather, though there is a storm with some rain hanging around. It's interesting to hear FSS talk about the weather in Russia, as this is where the weather in the interior of Alaska comes from (the weather on the coast comes from Japan).
I wake up a 3:00 in the morning, and notice there are low ceilings coming in. I debate whether to strike camp and get out in front of it, but my lazy side wins out and I go back o sleep. And sure enough, when 7:00 am comes, it's raining. Well, I figure I can still get out under the rain and clouds (Husky needs a wash), so I taxi over to the pumps and get a preflight over at the FSS on the field. I come out and my Husky has a flat tailwheel! So, it's off to find a bottle of air and new tube. It's the 4th and most of the FBO's are closed, but I eventually find one (thanks to a friendly Canadian who taxis me around looking for one). BTW, the fireworks displays aren't too good in Alaska, it never gets dark! So I get the Husky up on a 5 gallon bucket, and use my tools agaain to break apart the wheel, stick in the new tube, blow it up and I am finally ready to go. I just gotta find a better tailwheel, it's just a sticker in the stupid thing. The mains are thick enough, the stickers don't get to the tube. Anyone know of a 6 or 8 ply 2.50-4?
So finally I get down the road, flying to Northway (ORT or PAOR), where I stop for fuel. I pass over Delta Jct where I lived when I was three. Take some pictures. Well, Northway has a cafe, so I get lunch, file my flight plan, call Canpass, and I'm on my way. I have tailwinds and make good time to Whitehorse (CFP8), my next stop. Off to my right are a couple of routes that will take you to the coast, Haines or Skagway. Probably cloudy with low ceilings over there, as usual. I opt for the highway.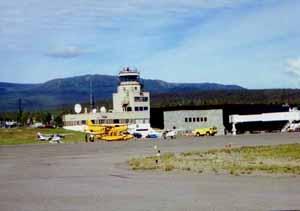 I stop at Whitehorse, go into the FBO/bunkhouse and meet a group of Canadians who are flying around together. They have been up in northern Canada checking things out. So we hangar talk for a while. They tell me where I can camp, so I taxi over and set up camp. In the morning, I hoof it over to a cafe for a good breakfast, file my flight plan (required in Canada if you go more than 25 miles from your base), and I'm on my way. You have to file a flightplan in Canada, and they have "enroute" pilot to pilot frequencies which you use when you are out of radio contact. They have some of these frequencies when you start talking, you hear a telephone ringing and a connection made! You then have a radio link! There is no "ontop" flying unless you have an IFR rating in Canada (if you have a Canadian license, they have an ontop rating).
I make it to Dawson Creek (CYDQ) and it's about dinner time, so I opt for a hotel. Dawson Creek is mile 1 on the Alaska Highway. Nice place. Next morning it's down to Springbank (CYBW) (near Calgary), nice Class D with lots of flight instruction and a lunch counter, then Lethbridge (CYQL) and into Great Falls (GTF) to go through customs. US customs is more of a hassle, guy asks all sorts of questions Then on down to Cody, WY (COD), where I figure I've had enough. Motel, then three hours and I'm home, Boulder Colorado.
All in all, a great trip. I did it by myself, which is not ideal (I tried to find another plane to do it with). I had a couple of mechanical problems, but nothing I couldn't fix quickly. This is always the big worry on a long trip. I put about 88 hours on the Husky, was gone 14 days, flew 13, and about 60 airports. I definitely recommend West Alaska, it is superb to fly into towns you can only reach by air. Everytime I get to Alaska, I wish I had floats, maybe someday. Many thanks to all who supported me in my endeavor and for those of you reading, try and get up to Alaska and fly. It is truly superb.
---
1. Story and photographs copyright ©2001 Doug Barr. All Rights Reserved. Photographs are from a previous Alaska trip. Return to story.
2. Many airports in Alaska use both an FAA 3-letter ID and an ICAO 4-letter one, which unlike most lower 48 airports, may be quite different from each other. Return to story