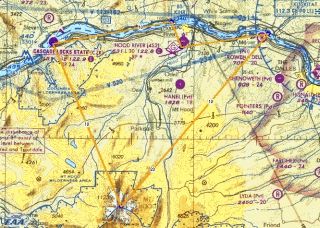 When you live in a semi-arid climate like Colorado, a chance to see forests, rivers, lakes and waterfalls is a real treat. So, when a business trip took me to Stevenson, Washington, the change to see wet and green from the air was irresistible.
Stevenson, Washington is about an hour east of Portland, Oregon on the northern shore of the Columbia River Gorge, which separates the two states before flowing into the Pacific Ocean.
I made arrangements to fly with Paul at Flightline Services at Hood River airport (4S2). There is an airport at Cascade Locks, OR, just across the Bridge of the Gods from Stevenson, but there are no rental aircraft there. Nor any services. Directories warn against landing there and even the locals avoid it, treating it as an "emergency only" landing site. Besides, the town of Hood River is quite nice and is know as the "Wind-surfing Capital of the World".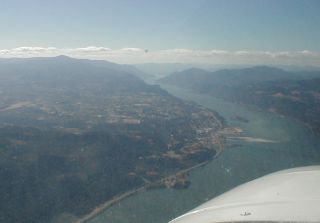 Flightline has two aircraft available, a Cessna 152 and an absolutely beautiful well-maintained 1967 Cessna 172H. N2723L is one of those machines that show you just how good an older airplane can be. From it's 140 HP Continental to it's updated avionics and electronics to it's "new" (post 1997) paint scheme, it really is a beautiful and well maintained airplane with not a streak of oil on it's clean white belly.
Planning to fly to Oregon's lofty Mount Hood, we took off from Hood River's 631 msl runway and headed down the Columbia River as we began our climb to our target altitude of 9,500 feet. After climbing above a scattered layer at about 7500 feet, we headed south to the mountain.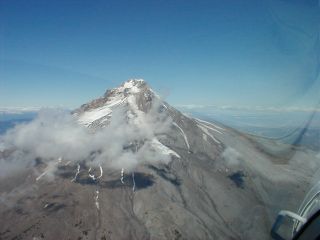 Mount Hood stands almost 12,300 feet high. Although similar in height to the Colorado Rockies, this portion of the Cascade Range is quite different. In sharp contract to the Rockies which lie in generally high terrain and rise 5000-7000 above their surroundings, Mount Hood and the nearby Jefferson, Adams, as well as the more distant Reinier, rise regally above relatively low terrain. Mount Hood, although only 20 miles from the Columbia River, rises over 12,000′ above it.
We approached the summit from the south over Hidden Lake and flew around it before returning to the Columbia near Dalles, an industrial town about 17 miles east of Hood River and back to Hood River airport.