In July, 1998, I was invited to speak on ethical implications of using e-mail at the law office at the Lawyer Pilots Bar Association Summer meeting in Santa Rosa, California. This beautiful small city is in Sonoma County, in the heart of California's wine country and a short trip, by air or land, to the Pacific coast.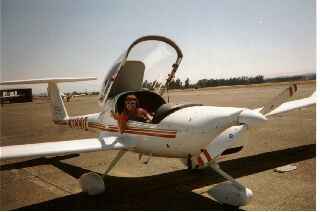 While in Sonoma County, Janet and I had a chance to check out and rent aDiamond Aircraft Kitana at American Aviation Flight School at the Sonoma County Airport (STS). If you haven't had a chance to fly a Katana, you're in for a treat when you do! This two-seat beauty has incredible visibility, even for shorter people. I told my 5'2″ wife that it was just the right size for her, and it was!
Our plan was to take the Kitana and fly up the coast to Eureka, where we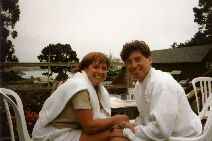 planned to be the guests (for my birthday!) of Shauna & Donald Burrow at theSamoa Airport Bread & Breakfast at Eureka Municipal Airport (O33).Unfortunately, the coastal fog was not conducive to a coastal sightseeing trip.
We went nevertheless, opting for ground transportation. It was a great trip! Lunch in Mendocino. California redwoods. And we even got up to Eureka and stayed with the Burrows. This B&B is a real treat! The barracks-style exterior hides and absolutely charming interior. And the company (and food!) couldn't be better. We recommend it highly!! Hi, Don & Shauna!