By Jacques Weber 1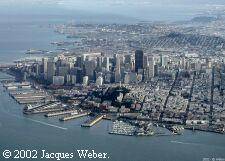 METAR says "clear sky, unlimited visibility" over the San Francisco bay area. A call to FSS just confirms this weather. This is definitely the perfect weather to fly and take some aerial pictures.
My wife's cousin and her boyfriend were at our home visiting us from France. They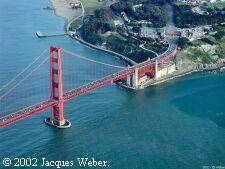 just came back from a 2-week trip through the main California, Nevada, and Utah national parks. So, this weekend was the perfect time to show them the bay from the sky.
I decided to leave at 5pm from Reid Hillview (RHV) to get a nice western sloping sunlight.
Looking at a Sectional or Terminal Area Chart, it's pretty complex airspace. (Click here to view a San Francisco Area Chart) Reid Hillview is just 5 nm east of San Jose Interational Airport (SJC) in a "cutout" abutting SJC's Class C airspace. Half of SJC's Class C area lies directly underneath and next to the San Francisoc Class B terminal area. Nevertheless, sometimes it can be easy.
"Cessna N73454. Request departure to the West for a Bay Tour". We took-off on 31L. A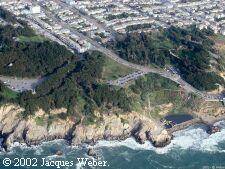 quick hand-off to San Jose (SJC) Tower and we were able to fly just above the airport. Soon after, Bay Approach cleared us through San Francisco's Class B airspace at 3,500 ft.
Nice trip along the San Andreas Fault, gorgeous view on Half Moon Bay. We flew almost above San Francisco airport (SFO), just after which we got the expected "descend at pilot discretion"!
We flew just over the sea to keep San Francisco on our right, and my wife began to take pictures of the Golden gate park, Point Lobos, the Golden Gate bridge.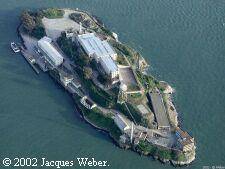 A shallow 360º right turn around Alcatraz Island to take some more pictures. We flew into the bay along side the Bay bridge, over Oakland (OAK) and Hayward (HWD).
We landed at Reid Hillview after 1.5 hours, a lot of pictures in our cameras and thousands of pictures in our minds…
By the way, my wife and I got married the day before…. We both definitely consider this flight as our best wedding gift! We'll never forget it!
---
1. Story and photographs copyright ©2002 Jacques Weber. All Rights Reserved.For more beautiful photos of this flight, go to Jacques' personal home page atjweber1.free.fr/18_bay_tour.html. Return to story.