Getting So Much For Giving So Little
By Kellie Reddick
Angel Flight West is one of six regional Angel Flight organizations in the United States dedicated to arranging free air transportation on private aircraft in response to health care and other compelling human needs.For pilots, Angel Flight is an opportunity to combine our love of flying with volunteer community service. The personal dividends alone are worth the trip, and the out-of-pocket costs of our charitable flights are deductible. Most Angel Flight mission are within a 500 nm radius of home and volunteer pilots range (depending on regional rules) from private pilots without instrument ratings to high-time commercial pilots flying corporate jets. Although all "patients" must be ambulatory and medically stable, Angel Flight encourages the use of "mission assistants", an opportunity for non-pilots and less-experienced pilots to participate.
This story is about just one Angel Flight mission, told from the eyes of a non-pilot mission assistant. There are many, many more.
---
Have you ever had an experience where someone you care about required medical care or treatment in another state, and they could not afford the expense, but it was critical that they make the appointment? Many people experience this, for reasons that vary from a lack of financial resources to a lack of insurance and/or medical coverage. Angel Flight can compensate through the services that we provide. Here is an example of just such a critical need, and how Angel Flight was able to help.
As I drove to the airport to meet pilot Mark Kolber, I started out that morning with a mindset ready for the adventure that lay ahead—the adventure that we were going to create today, with the little boy we were going to pick up in Amarillo, Texas.
I cracked the door to the airplane during taxi. The propeller started producing wind within the cockpit, allowing a breeze to hit our face; and I knew that we were about to take off on a venture that was going to make a difference in the lives of one child and his mother. That is worth more than words can express.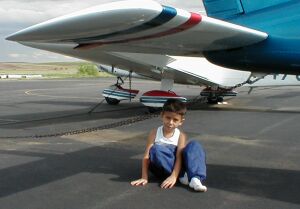 This mission was going to make a difference in our lives too. Inside the cockpit, Mark and I could not wait to meet our passengers in Texas. Their names were Devyn and Susan Duran. Devyn is six years old, and Susan is his outstanding mother. The two of them get along just like best friends, displaying an important example of how loved ones should treat one another, never taking a day in each other's presence for granted.
After we arrived at Amarillo International Airport, Mark and I ate lunch at a restaurant, and sat next to the window, peeking out in anticipation for Devyn and Susan's arrival. Upon landing, Devyn did not feel well, after abruptly waking from a nap on final. They had done a lot of flying just within a couple of days, and had never flown in any small airplane until this recent series of required flights.
In order for Devyn to be seen by a specialist at Texas Children's Hospital in Houston, they had flown first from Centennial Airport in Colorado to Houston, from Houston to San Angelo, and from San Angelo to Amarillo. From there, Mark and I were to take them home to Colorado. As co-pilot, I helped to navigate, and I also assisted with the patient, Devyn, who has a blood disorder, and his mother, Susan, a passenger. Mark said that once we met up with them, they would probably need some extra TLC. I was happy to give it.
The pilot who flew Devyn and Susan on one of the flight legs was named Sam. Devyn called him Santa Sam because he looked like Santa to him. Devyn wanted to see him off in his plane, by recording it so that he could watch it on video later. I stood in the doorway of the terminal with Devyn and his mother as we watched Santa Sam and his plane disappear into the sky.
Once enroute, shortly after reaching altitude, Devyn asked if we were almost there yet. That famous question brought instant smiles and grins to both Mark's face and mine. During the flight, Devyn and Susan wore headsets, and we communicated as we talked about the charts and who exactly we were listening to on the radios. Although I took pictures, I missed one truly amazing opportunity. Approximately ten miles southeast of Centennial airport, where we would all be returning home, we had to divert to the north around a massive area of virga. As we flew around the virga, a brilliant rainbow came into view. It lit up the gray sky. Devyn asked me, "Did you get a picture of it Kellie?" I said, "No, I missed it, but if you take a picture in your mind, and remember how beautiful that looked, it will last forever. I promise. That's exactly what I did."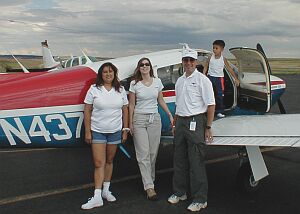 After we landed, Devyn noticed the bigger aircraft that were parked in hangars, including one authentic that landed after coming from the Wings Over The Rockies Museum. He blurted out, "This plane is a 'peep-squeak' compared to those other ones! Next time can we fly in that one?" I said, "Peep-squeak? What is that?" After that, it was all over, everything was a peep-squeak, and it was too much fun!
After Mark and I drove Susan and Devyn to their car, the time came to say goodbye. It was unlike any heartfelt emotion I have experienced. Devyn was full of life and energy, I think from the long trip coming to an end, and we all took turns giving hugs. Devyn jumped up and reached his long arms around my neck and squeezed, after wrapping his limbs around my waist. At that point, I knew that what all of us shared that day, we would all remember, including Devyn. I looked at him and said, "I am glad that you will always remember our trip and that you won't forget Mark or me! I know we certainly won't forget you!" He then jumped down and ran over to Mark to express the same gratitude. Susan was ever so gracious, and we were just as grateful to have been given such an opportunity to meet these two extraordinary individuals that we waited to meet for over half of a day, getting to share the other half–laughing and learning together.
At day's end, Mark and I smiled at one another and were utterly speechless. We could not find the words to express how great the trip went, and how great Devyn and Susan were… how great we felt. Mark said to me, "Doesn't it feel good? I feel so good after doing this that I almost feel guilty about getting so much for giving what seems to be so little." We left the airport on that note.
With Angel Flight, you have an opportunity to reach out to people's needs. Whether you are the pilot, co-pilot, or assistant, you will be able to reach the patient and passengers beyond any distance you ever imagined. You will not only make a difference in their lives, you will be creating memories together. I know that Devyn, Susan, Mark, and I will all remember that Mission Flight.
---
For more information about Angel Flight, contact the Angel Flight regional
organization in your state: