Janet and I had planned a trip to Maui for about a year. On our last two visits to the US's 50th state (touring Kauai and the Big Island (Hawaii), we were unable to fly, except on tours. And our last visit to Maui, over 15 years ago, I had not yet even begun to take flying lessons. So getting into a small airplane during our vacation was a priority.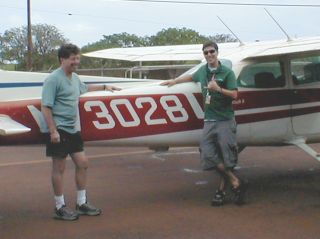 Often on these kinds of vacations, there's really not enough time for an adequate checkout and time to fly somewhere ourselves. Add to that more open water than I am used to flying over, the need to really understand the use of emergency flotation devices and ditching procedures, and checkpoints that I could barely pronounce, and the plan was an area familiarization flight with a knowledgeable CFI.
Maui Aviators is the only FBO on the island that provides airplane flight training and airplane rentals. Fortunately it is also a very good one. It came highly recommended by friends at AvSig and received good reviews from pilots reporting to AirNav. On top of that, just before we left Colorado, Maui Aviators was highlighted in a November AOPA Pilot article on the airport with the best (worst?) consistent crosswinds. After arriving in Maui, we called and left a voice mail, which was promptly returned by Craig Macdonald, a personable and very professional CFI working at the school. We initially made plans for a Tuesday flight, but had to reschedule for Friday when the sole source of avgas on the island had a problem with the single (self-service) pump.
It was definitely worth the wait! We selected a flight that would take us over the Maui north shore and include the nearby islands of Molokai and Lanai. This was one of several standard area familiarization flights Maui Aviators offers to visiting pilots.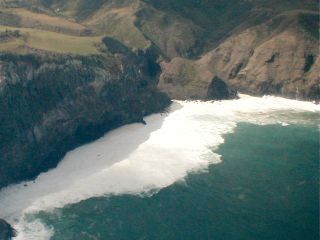 Kahului airport (PHOG) is a Class C facility. It's runways serve all of the major airline flying into Maui and a very small general aviation population. In a somewhat interesting twist, although the typical Class C call to Clearance Delivery is required for VFR aircraft, viewing the taxiway diagram for the airport shows that the east side taxiways are all in a non-movement area. So a call to Ground is neither required nor desired. We taxied to the run-up area and as I performed the system checks covered by the before takeoff checklist, Craig called Clearance Delivery for our departure. It's great to have a local pilot along to handle the radios — especially in Hawaii, where the checkpoints have names like "Kahakuloa" and "Honokohau"!
Run-up complete, a call to Tower, a takeoff on Runway 5 followed by a left turn to the northwest, and we were on our way.
Remaining at 1000 AGL (above ground level), we flew up the coast past Nakalele Point, the most northernmost point of the island and around toward Honolua Bay, famous for it's surfing and Mokuleia Bay, a popular snorkeling spot. A recent cold front and it's accompanying high winds made the famous surf of the Maui north coast even rougher than usual. The extra churning of the surf treated us to what Janet likes to refer to as "Cappuccino foam" in the continual small bays cut into the rugged terrain.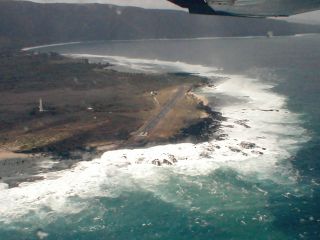 Crossing Pailolo Channel toward Molokai, about 7 miles at the closest points, we climbed to 2000 AGL to have a little more gliding distance (just in case). Passing Elephant Rock continuing up to Molokai north coast, we switched from the frequency used by both private aircraft and aerial tours to self-report their positions while touring the islands to the Common Traffic Advisory Frequency in preparation for landing at Kalaupapa (LUP). The watery approach and landing at the 2700′ long runway on this small peninsula is both beautiful and windy. Taking off with waves crashing under you as you cross the departure end of the runway is a real thrill.
The isolated Kalaupapa, accessible only by air or sea, is the home to two major cultural episodes. The first, unfortunately common, was the removal of the indigenous population in 1865 and 1895. The second, perhaps more universally famous, event was the forced isolation of leprosy sufferers for almost 100 years, from 1866 until 1969. For more information about the peninsula, now a national park site, see the Kalaupapa National Historical Park website. Kalaupapa still has a small resident population, made up, in addition to a small number of clergy, of almost equal numbers of residents, Department of Health staff, and National Park Service employees.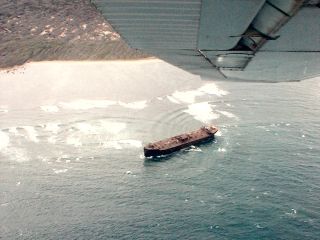 We continued along the north shore of Molokai, headed south across the island and flew on to the north shore of Lanai where we find two old tankers that were wrecked (along with other smaller vessels) on Lanai's reef during the World War II era. "Turns around a shipwreck". Student pilots sometimes ask why we have to learn those ground reference maneuvers. The opportunity to put those skills to the test by flying "turns around a shipwreck" should provide reason enough!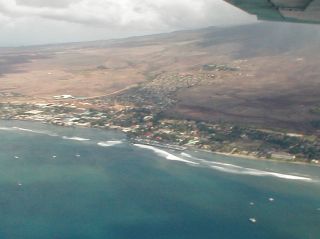 Heading east from Lanai across Auau Channel, we return to Maui's western shores near the world class Kaanapali resort and Lahaina, the former capital of the Hawaiian empire, whose history attracts visitors from all over the world. Continuing south toward Maalea, we contacted Kahului Approach in preparation for our return. Our landing behind a departing Boeing was uneventful…
…which was too bad! If there was one drawback to the flight, it was missing those famous crosswinds! The winds were light that day, running only about 15 knots. Although the crab necessary to maintain the extended centerline on final showed the crosswind component to be significant, it did not rise to the level that would earn me one of the famous crosswind survival certificates to hang on my wall next to my certificate from my first flight into Leadville, CO (the nation's highest public use airport).
Rats! Guess I'll have to be satisfied with a T-shirt until I come back!